Congratulations! You are now on the waiting list for "The Editor", please check your inbox for our confirmation email!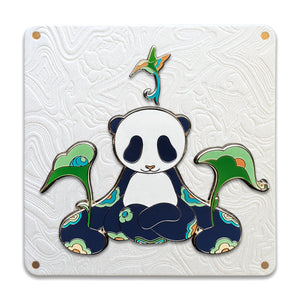 Pandamasana
Regular price
$38.00
$0.00
Pandamasana is a two-pin set featuring a panda meditating in the lotus position while a hummingbird hovers above. James created this pin set to celebrate the opening of his solo museum exhibition, Eternal Spiral II, at A4 Art Museum in Chengdu, a city famous for its research and conservation efforts for the endangered Giant Panda. Pandamasana will be available on Wednesday May 17, 2023 at 8 AM PT in a limited quantity of 500 pin sets. 
Pin sizes: 

Panda: 2 1/4" W x 2 1/8" H
Hummingbird: 5/8" W x 7/8" H

Seven enamel colors and polished brass detailing 
Three deluxe brass clutches
Price: $38
Edition size: 500 in Navy Blue
Release date:

May 17, 2023 at 8 AM PT
Pin sets will be limited to ONE per person. All duplicate orders will be cancelled. Please allow 1-2 weeks for shipping.